All-In-One Bamboo Nappies (Nappy + Cover)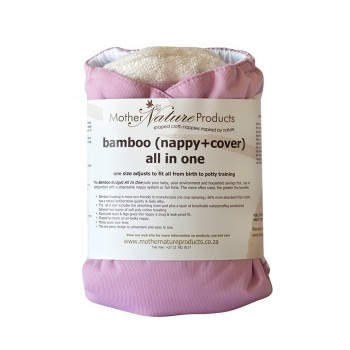 MONEY SAVER! ECO FRIENDLY! LOCALLY MADE!
BAMBOO ALL-IN-ONE NAPPY
(One-Size Cover + One super soft Bamboo Insert)

PLEASE NOTE: COLOURS IN STOCK: sailboat pattern, pink hearts and butterflies pattern, lavender, beige.
Description: Our wonderful nappy is a one piece, one size design that adjusts to fit from birth to potty training and any sizes in-between!
Comfortable: The highly absorbent insert is made from 2 layers of 100% natural bamboo-cotton toweling. The cover has breathable waterproofing hidden between 2 soft polyester layers that keep baby unbelievably dry.
Features: Stretchy side waist tabs for a snug fit and the bamboo insert is removable to allow for separate line/tumble drying. Our new moisture management cover keeps baby dry for hours. You can purchase the one size cover and inner bamboo inserts (2 per pack) separately saving you more money.
Flexible: Use a booster pad for extra absorbency for example at night.
Easy Use: no need for stuffing inserts into pockets, just pop the bamboo insert onto the cover, place your baby on top (even dad gets it). You can add a biodegradable & flushable nappy liner or fleece nappy liner to catch the soiled matter. Fasten the poppers according to your baby's size. As baby grows so does the nappy.