The Rainbow Day or Night Nappy Cover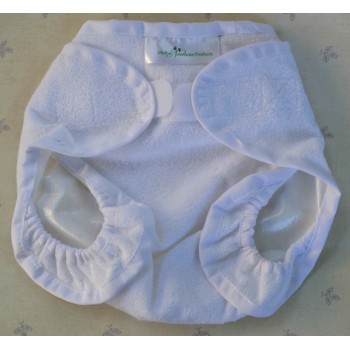 Description: For an unbeatable soft feel choose the rainbow cover. Mother Nature's unique design is made from a blend of fine cotton flannel on the outside with a polyester base; which has been laminated with a breathable polyurethane to make it waterproof yet slightly breathable. The cotton flannel gives the cover a soft and natural feel which washes out better than a 100% polyester cover.
A leak proof design with elasticized waist, gusseted legs and a soft fleece gusset for added softness and anti-leaking.
Easy to use and adjustable Velcro fasteners specially designed to reduce discomfort from Velcro straps rubbing on baby's tummy.
One cover can be re-used with several nappy changes before replacing by simply wiping the inside during changes & applying the fresh nappy on top.
Cool to warm wash.
To prolong the effectiveness keep the laminate out of direct sunlight/ heat exposure.