Premature Bambo Eco Disposable Nappies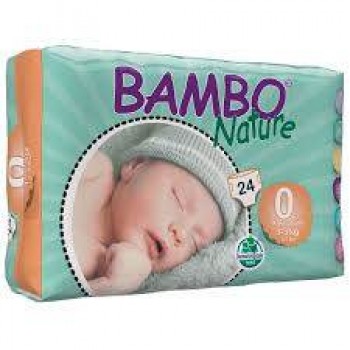 THE NORDIC SWAN ECO LABEL
* Free from harmful chemicals
* no lotions, perfumes, deodorants or antioxidants
* 100% chlorine, TBT & latex free
* a much lower eco footprint
* 100% biodegradable absorbing pulp

24 Premature 1-3kg
28 Newborn 2-4kg
30 Mini 3-6kg
56 Midi 5-10kg
50 Maxi 8-18kg
46 Maxi Plus 12-22kg
42 Junior 15-25kg
22 Junior Training Pants
How does Bambo Nature's premium nappy give the health of your child and the environment top priority?
Bambo Nature nappies are both ultra-thin and ultra-absorbent with a unique layer that draws wetness away from baby's skin, keeping baby dry and comfortable even with repeat wetting.
The nappies have a much lower eco footprint than ordinary disposable nappies and are the ONLY nappy brand to get the prestigious Nordic Swan Eco Label, which is the leading eco labelling company in the world. Not only is the environmental impact during the nappy's full life cycle investigated but also the quality and functionality of the nappies must meet high standards too. These nappies are ideal for babies who react to the chemicals used in regular disposables.
SPECIAL DESIGN FEATURES:

Re-sealable, stretchy velcro-style tabs.
Double leakage barriers with soft elastic helps keep baby dry.
Superabsorbent core with a unique layer that draws wetness away from baby's skin, keeping baby dry and comfortable even with repeat wetting.
Extra elastication along the back for better fit and comfort.
Breathable back-sheet allows air to circulate to the skin, reducing moisture content, thereby reducing the risk of skin irritation.

AVERAGE FULL-TIME USE GUIDELINE:

Newborn (10 packs)
Mini (15 packs)
Midi and Maxi (10 packs)
Maxi Plus (10 packs)
Junior (2 packs)