Wellness Bracelet - Fertility & Conception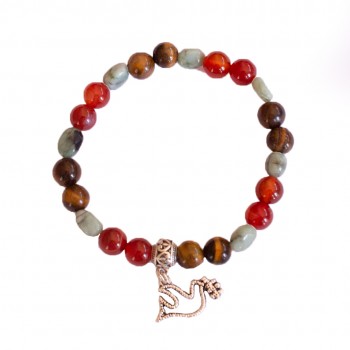 For this bracelet we have chosen gemstones that are symbolic of energies that are associated with male and female fertility wellness, combat depression and guard against negativity.
Crystals may be able to absorb and transmit energy, and therefore they can help to tune your body's fluctuating energy levels.

According to crystal therapy theory, different crystals have different electromagnetic charges. The charges can remove energy "blockages" and encourage your body's own processes to become more effective. The theory is that this may help your body to be more receptive to conceiving a baby.
This is not proven science and the real reason for not being able to fall pregnant may be something untreatable. However we hope that our bracelet gives you hope, strength and positivity in the journey to having a baby; or coming to terms with not being able to do so.
Gemstones used:
Carnelian: supports hormone production, symbol of love, passion and fertility potency, attracts prosperity and good luck, associated with decreasing prostate problems in men.
Emerald: promotes positive mental health and reduces stress – peace of mind, mental clarity, symbolic of successful love.
Tiger's Eye: promotes balance of the hormones in the body and gives you courage.
For increased effectiveness wear your bracelet on the left wrist where the energies are absorbed and travel fastest to your heart.