Rainbow Nature Nappy (one size fits most)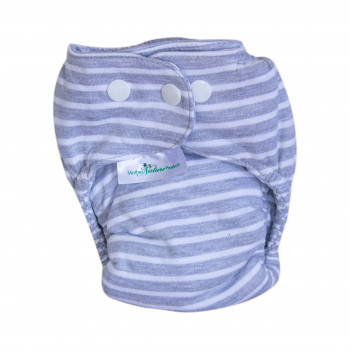 Colours in stock: vanilla, blue, rose, grey, grey-stripe
This is our original one-size cloth nappy design but in layers of 100% soft cotton that adjusts to fit from birth to potty training and any size in-between! Elasticized waist & legs give this nappy a snug & leak-proof fit. There is a hidden breathable waterproof middle panel that delays the action of the nappy leaking through the wet zone. Shaped to create an un-bulky nappy which keeps the "messy bits" where they belong. Plastic studs are used to fasten the nappy. These snap-on easily and are very strong and durable.

Separate Nappy and Cover design: Either a rainbow nappy cover or the night fleece cover is worn over the nappy to keep baby dry. User Tip: On hot days, use the nature nappy without a cover at home to create a more airy nappy area.
Flexible: Each nappy is sold with a booster pad for extra absorbency for example at night.
Easy Use: Get your money's worth from our versatile nappy which adjusts by folding the front panel down & tucking the inner panel under itself, therefore, reducing the crotch to create a smaller nappy. Older babies don't fold anything down. We recommend lining the inside of this nappy with either a Bio Liner and/ or Fleece Liner for added comfort, or both.
Size: one size fits all from birth to potty training
Colours: vanilla, rose pink, baby blue, grey, grey-stripe, buttercup, aqua green