Part-Time Pack: The Rainbow Nature Cotton Nappy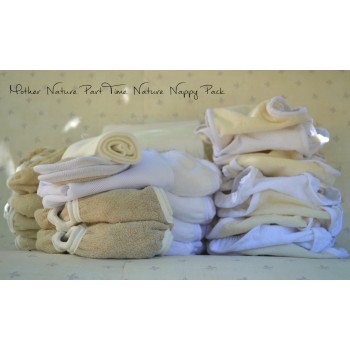 Perfect if you want to combine disposable nappies with cloth nappies or purchase this option if you are unsure about only using cloth nappies. Use this as a starter and later add more nappies. What's in the Rainbow Nature Nappy pack:
10 Rainbow Nature Cotton Nappies

9 Rainbow Waterproof Nappies (3 small, 3 medium & 3 large)
1 pack of Biodegradable & Flushable Liners (100 per pack)
Free:
1 Laundry Mesh Bag, 2 Booster Pads, 2 Washable Fleece Liners & Free Delivery!
We pack a standard of three covers in each size (3S/3M/3L), if you would like to change this, please specify in 'Colour & Size' eg. 5M/4L = 9
*Nb: when ordering any of the set packs you will need to state which color nappies you want us to pack as well as the quantities (e.g. 2 pinks, 2 white nappies with white covers, etc).