Full-Time Pack: All-in-Three Bamboo or Cotton Nappy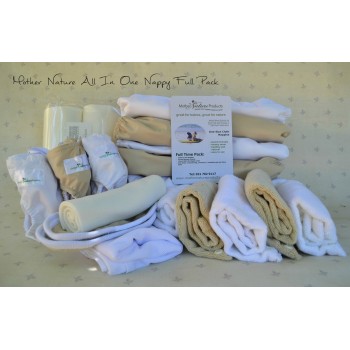 15 All In Three Nappies (includes nappy cover plus insert)
5 Extra Nappy Inserts

1 pack of Biodegradable & Flushable Liners (100 per pack)


Free: 1 laundry mesh bag, 2 Booster Pads, 2 Washable Fleece Liners & FREE DELIVERY NATIONWIDE
*NB: when ordering any of the set packs you will need to state which color nappies and inserts you want us to pack as well as the quantities (e.g. 2 pinks, 2 white nappies with white inserts, etc- see AI3 nappy for options available). You can do this under 'notes' at the check-out cart.
FULL-TIME PACKS:
These are the basics that will see you through from Birth to Potty without using disposables! Saving you thousands and keeping over 5000 disposable nappies off our landfills.
Free items are great!
Booster Pads are used at night to add to the absorbency of the nappy (placed under the inner flap of the nappy)
Fleece Liners placed on top of the nappy let the moisture pass through keeping baby's bottom dry.
A laundry bag is ideal for washing as it protects the nappies from shredding in an older washing machine & you don't have to touch the soiled nappies!
Suggested extras: 1 pack of Booster Pads, 1 extra pack of Flushable Liners and/or Stay-Dry Fleece Liners, 1 Barrier Balm & Wet Nappy Bag.