Agent Starter Pack or Baby Shower Gift Pack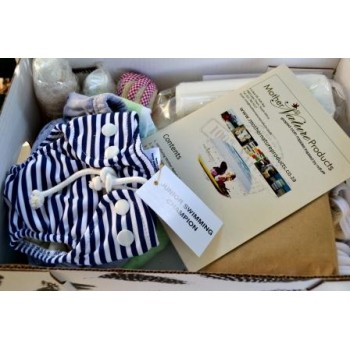 As a Mother Nature agent you can make an income from the products you love to promote. This pack is beautifully packaged in our decorative boxes and makes a wonderful baby shower gift option - all our natural baby products at a discount price!
1. There is no joining fee. Our agent starter pack is for R1500: Products at our discounted price.
AGENT STARTER PACK:
QUANTITY
Bamboo all in three nappy
1
Nature Nappy
1
Rainbow cover
1
Swim cozzie Nappy
1
Potty trainers
1
Sensitive Skin sunscreen
1
Goat's Milk shampoo and Body Wash
1
Bio Liners
1
Wet Nappy Bag
1
Nappy Booster Pads 6's
1
laundry soap
1
Natural Barrier Balms
1
Goat's Milk Soap
2
Shampoo & Body Wash
1
Goat's Milk Lotion
1
Sensitive Skin sunscreen
1
Natural Stain/ Laundry Bar
1
Mother Nature Catalogue
GRAND TOTAL
R 1 500
2. Minimal investment in your new business venture: Once your have purchased your Mother Nature agent pack you are ready to sell your products at the full price and keep the profit.
If you change your mind about becoming an agent you have 60 days to return your agent pack for a full refund.
Any products you have sold or any products you keep over and above your agent pack you then owe us the full price which is deducted off
the refund for your agent pack.
3. If you decide to continue to work as a Mother Nature agent you may purchase any quantity of products or packs at the agent price at any time -
forever and with no target sales requirements. There is no demotion for not selling often or at all.
4. Recommend a new parent to join our Mother Nature agent team and as an existing agent you get paid R300 in vouchers when this person buys a Mother Nature agent pack.
This gives you R300 free products basically and allows you to make 100% profits on the products you claim your vouchers on or free products to you !
5. How does the order process work?
a) Either hold stock and sell direct to the customer or you fill out an order form and it gets posted to the address and details given on the order form.
b) We will post your order when we receive payment directly from you or your customer can pay us the full price directly and we pay your earnigns to you.
Don't place the order with Mother Nature until you receive payment from your customer (full retail price then you pay us the agent price).
c) Make sure you put in your name as a reference as the agent.
d) If you are ordering in bulk remember to work the cost of delivery into your overall price or order over R500 for free post office delivery nationwide.
6. How to recommend a potential agent:
a) Email or call us with the name, contact number and email address of the person who has shown an interest in becoming a Mother Nature agent
and we will do the work of promoting our agent deal to this person.
b) Once they have purchased their agent pack we will notify you by email and email your vouchers to you.
c) You can then claim back your vouchers with your next purchase at any time.
7. Ways to sell the Mother Nature range of Products:
There are many ways to get going and no limitations. How much effort you put in depends on you. Here are some ideas:
promote the products on your face-book and sell to friends of friends or friends.
network amongst your groups of moms: at baby clinics, moms groups, church, school, your workplace, your paediatrician or GP, your community
set up a table at local markets
get your family and friends involved in spreading the word about your new business venture
place a small advert in your local paper
invite moms for a coffee morning at your home
In no time you will build your network and start to see that network grow.
Quality products are remembered long after gimmicks and those customers will come back to you for more if they are happy with their purchases.