Versatile Change Mat or Mattress Protector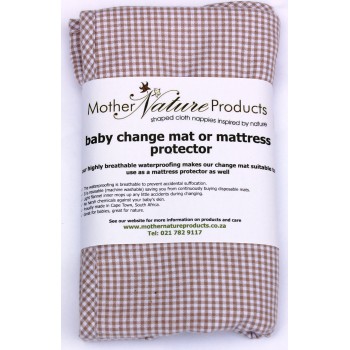 CHANGE MAT/MATTRESS PROTECTOR – BREATHABLE WATERPROOFING

Invest in this simple mat which has dual-purpose for either changing or as a mattress protector. The benefit is that the waterproofing is highly breathable to prevent accidental suffocation. The mat can be folded and used whilst out and about.
Washable change mats benefit the environment, save money and reduce the number of chemicals your baby's skin is exposed to. Did you know? Regular disposable change mats usually contain propylene glycol a binder found in anti-freeze, synthetic fragrances which have been linked to reproductive changes, and propyl parabens -linked to cancerous tumors.
Size: 55 x 50cm
Colour: White cotton flannel front, highly breathable waterproof middle and beige gingham back/ protea/ safari/ ocean/ kitty (patterns match our wet nappy bags)
Care: Machine wash. Do not Tumble-dry.