All-In-Three (Nappy + Cover)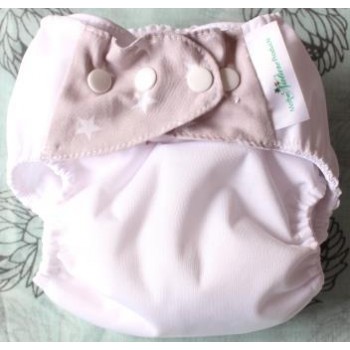 MONEY SAVER! ECO FRIENDLY! LOCALLY MADE!
BAMBOO AI3 NAPPY
COLOURS IN STOCK: beige, beige check, navy, red, red check, garden floral, blue floral, purple, purple with pattern, pink, pink dot.
(One-Size Cover + One Bamboo or Hemp Insert)
Our newest design, the AI3 nappy is a one piece, one size design that adjusts to fit from birth to potty training and any sizes in-between! Our new cut is very slim fitting yet grows outwards to suit larger sized babies up to 3 years of age. The new cover has a hidden pocket inside in which the absorbing insert can be placed for that stay-dry effect while the nappy is in use.

Comfortable: The highly absorbent insert is made from 4 layers of 100% natural fabric: either our thirsty bamboo-cotton toweling or a slim fitting hemp knit, we hand the choice over to you! The cover has breathable waterproofing hidden between 2 soft layers that keep baby unbelievably dry. Our covers are shaped to create an un-bulky nappy and made from very light-weight fabrics.
Easy Use: Find the studs hidden under the front pocket opening and just pop the bamboo/ hemp insert onto the cover then place your baby on top. If you prefer, you can slot the insert into the pocket opening giving you a neat and stay-dry pocket diaper!
Add a biodegradable & flushable nappy liner or fleece nappy liner to catch the solid matter and protect the nappy form becoming heavily stained. Adjust the diagonal side studs according to your baby's size - as baby grows so does the nappy.
Flexible: a booster pad or extra inserts can be added for extra absorbency; for example at night or for heavy wetters.
Features: stretchy side waist tabs for a snug fit and the bamboo/ hemp insert is removable to allow for separate line/tumble drying. Our new pocket feature keeps baby dry for hours. You can purchase the one size cover and inner bamboo/ hemp inserts (2 per pack) separately saving you more money.
Size: one size fits all from birth to potty training
Weight: 3 kg to 20 kg
Waist (diameter): 30 grows to 50 cms
Thigh upper diameter: 18 grows to 38 cm
Belly to bottom rise: 34cm grows to 44 cm
Our fabrics are known for their absorbency and we offer zero compromise on the quality of our products so enjoy using your Mother Nature nappies with confidence in their performance!