Reusable Sanitary Pads 2 pads per pack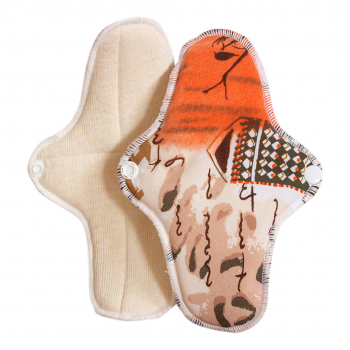 LADY'S OWN WASHABLE SANITARY PADS (made in South Africa)

In our continuous efforts to be natural and kinder to the environment, we have created the Ladies Own Sanitary Pads, which have been designed to be lightweight and slim, yet highly absorbent. It draws moisture away from the surface of the pad and the natural fabric is soft & comfortable against your skin.

The inner layer is natural unbleached cotton, which allows moisture to pass through into the middle absorbent layer. Then there is a breathable waterproof layer and an outer cotton layer. The pads have wings to fasten in place around the panty. For full-time use, you will need about 10 to 15 pads, depending on how heavy your period is. They also make comfy everyday panty liners.
Restoring Dignity to Women in Need:
As hard as it is to believe, as many as 40% of women in Africa don't have access to decent menstrual pads. This also affects absenteeism both at high schools and in the workplace as not having decent sanitary pads prevents women from attending school or work. Our cloth pads meet the requirement of many religious beliefs and cultures in Africa. We have a few charities and organizations involved in the purchase and distribution of our pads to the neediest communities, organizations, and schools but certainly not enough! Our set pack of pads in a bucket makes a wonderful charitable gift to young women in need.
Benefits:
Kinder to nature: washable & reusable
Comfy, soft & natural fabric against your skin
No absorbing chemicals used
Breathable waterproof layer
High absorbency with a design that draws moisture away from the surface of the pad
Light-weight, slim design
Fastens securely around under-wear
Savings benefit over time
Directions for use:
When: Use over your monthly menstrual period, postpartum, or as a mild urinary incontinence pad.
How: Secure the pad around your underwear with the snap fastener. Un-bleached cotton with cross stitch to skin.
Change when required.
Out and about: Use a little waterproof bag to store used pads in.

Storing:

Pre-soak pads in a small (lidded) bucket of cold water (optional: add salt to water). Place all used pads in this bucket.
Clean: Hand wash with a laundry soap bar and/ or delicate machine cycle wash in cold water. Air dry.
Do not tumble dry or use bleach. If you need to bleach stains rinse the nappies in lemon juice and water.
With correct care, the pads can be re-used for a few years.
User Tips: Take a small waterproof bag with you when out and about. You could wash the pads after your bath. Re-cycle your grey water if possible. Remember, this procedure only occurs once a month!