All-in-three Nappy Extra Inserts (2-Pack)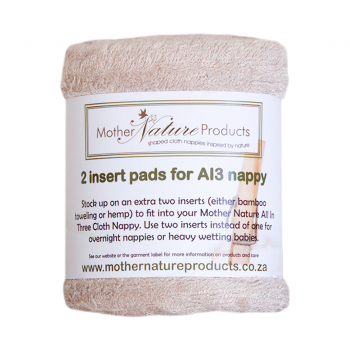 MONEY SAVER! ECO FRIENDLY! LOCALLY MADE!

BAMBOO INSERTS FOR OUR ALL-IN-THREE NAPPY - 2 PER PACK
Description: Our pack of two bamboo/cotton toweling inserts or 100% cotton towelling inserts allows you to stock up on extra inserts to fit into your Mother Nature all in three nappy covers. An extra insert can be used to booster up nappies with heavy wetters or overnight nappies. The insert covers the full length of the nappy cover inside with beautiful, soft natural fabric.
Comfortable:
The highly absorbent insert is made from 4 layers of 100% natural bamboo or high density cotton (beige bamboo or white cotton), two pads per pack.