Junior Swimming Champion: Swim Nappy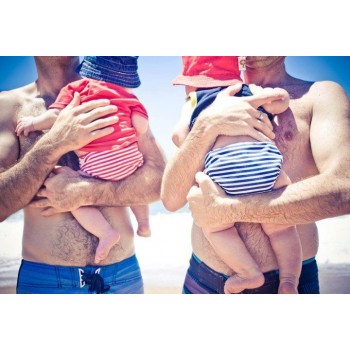 JUNIOR SWIMMING CHAMPION: SWIM NAPPY

COLOURS IN STOCK: Medium: ALL COLOURS (fish party with shark - only 4 left), Large: candy-stripe, dot, navy-stripe, ocean
Mother Nature's adorable swim cozzie is the ideal baby swimwear for the beach or swimming lessons to contain the 'nasties' and prevent contamination of public swimming places.
Our exclusive design (endorsed by SA's leading swim schools) has a light-absorbing poly-cotton inner, a breathable waterproof mid-layer, and a soft swimming fabric outer. Super light; it won't weigh your active baby down.
Easy Use & Safety First: It is adjustable in the waist and opens out like a nappy making changing easier. Machine wash and re-use to save money. With our cloth alternative, you reduce the number of chemicals exposed to your baby.
Size medium:
Weight 5 – 10 kg's
Waist (diameter) 30 – 40 cm - adjustable
Thigh (upper diameter) 24 cm
Belly to bottom rise: 36 cm
Size large:
Weight 8 – 18 kg
Waist (diameter) 50 – 58 cm - adjustable
Thigh (upper diameter) 28 - 30 cm
Belly to bottom rise: 44 cm