52 Ways to Grow Creative Children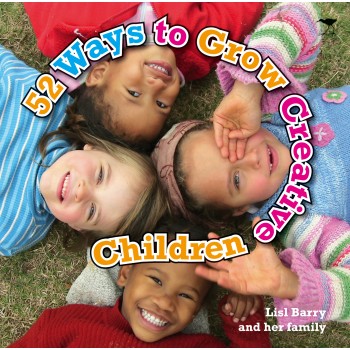 LOCAL AUTHOR!
52 WAYS TO GROW CREATIVE CHILDREN BY LISL BARRY
In an era of mounting dependence on television to keep children occupied and stimulated, we seem to have underestimated the tremendous impact of this form of passive engagement on children: physical activity, social interaction and sensory experience are increasingly neglected.
In complete contrast to this, Ways to Grow Creative Children is about connecting with your children, spending quality time and growing creatively together. It's about making a stimulating, simple environment in which their physical and mental development will be allowed to flourish at their own pace. Nature can be an endless source of fascination, creative materials and inspiration. You do not have to live in the countryside, be an experienced gardener or be 'arty' to do any of the ideas presented in this book. All you need is the desire to spend meaningful time with your children and a wish that they grow up being in touch with nature.
About the author:
Artist Lisl Barry lives with her husband Tom and her two children in the Gamkaberg.

A UCT graphic arts graduate, Lisl moved to the Klein Karoo 16 years ago when Tom was appointed the manager of the Gamkaberg Nature Reserve.

When Lisl isn't slapping oil paints onto a canvas she's home schooling her girls or tending to the veggie patch. Lisl's ultimate aim is to inspire people to ponder on the fact that this breath–taking environment is out there for them not only to be a part of, but that they would have the desire to protect and nurture it.