Organic Goat's Milk Lotion for the Whole Family 500mls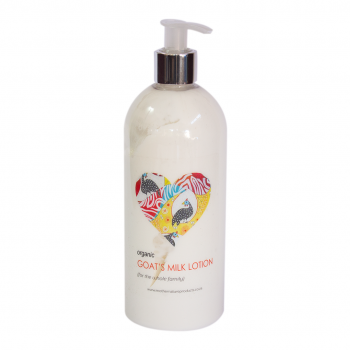 Description
:
We introduced the fantastic benefits of goat's milk lotion in 2007 and have been growing our fans of this product ever since! Nutrient-rich goat's milk is used to smooth and hydrate dry, irritated skin. The natural ingredients are absorbed deep into your skin. This natural body cream helps balance the skin's Ph and is ideal for babies or children with delicate skin.
Gentle and mild, this lotion can be used by the whole family. Hypoallergenic: -the lotion has a slight almond scent but no nuts or known allergens are used in this product and has been successfully used by sufferers of Eczema, Psoriasis, and Acne alike; leaving skin neither dry nor oily. Age Reversing: Due to its regenerative properties goat's milk is known to reverse aging skin and skin damage to some extent.
User Tip: This cream makes a great everyday face cream. For a night cream just add a little olive oil, grape-seed oil, or argan oil for a richer combination that moisturizes your face overnight. For men, our cream makes a great everyday shaving cream.
Keep stored away from direct sunlight so as not to damage the natural nutrients.
All-natural ingredients used and fragrance-free. Preservative: low dose of 0.5% Phenoxyethanol - giving our product a shelf life of 6 months - chosen because citric acid or alcohol (which are commonly used as natural preservatives) are known allergens even though they are "natural" preservatives. We have taken great care to ensure our skincare recipes use as few preservatives as possible.