Sensitive Skin Sunscreen SPF40 150mls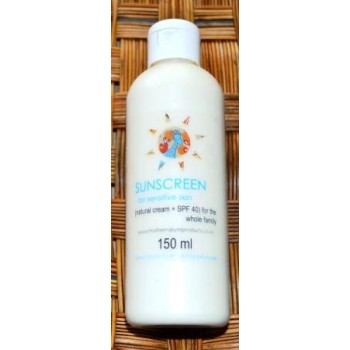 Top quality sunscreen (SPF factor 40 with UVA and UVB blocks) is included in our sensitive-skin sun protection cream plus natural free radical inhibitors to combat the effect of sunburn (aging, damaged skin and skin cancer).
The broad-spectrum UV blockers exist naturally in soil and are extremely unlikely to cause any adverse skin reaction; however, they are not broken down by sun rays. Octyl Methoxy Cinnamate gives our sunscreen an effective water resistance and has been used worldwide for 20 years plus in baby sunscreen formulations and is used for its excellent water resistance and UV B absorbing capabilities. All the UV blockers are approved worldwide for use on adults and children 6 months and older.
Mother Nature's Sensitive Skin Sunblock is non-irritating and is fine for use on the face and on Sensitive Skin. **Our SPF 40 Sunscreen is tested to the European COLIPA standard as a broad-spectrum UV A and UV B formulation.
· Long lasting UVA and UVB protection
· Water resistant
· Antioxidant to prevent skin damage (vitamins A,D,E)
· Rubs in easily, no white skin!
· Smells heavenly
Directions: Apply before, during, and after exposure to the sun (our sunscreen gives you on average - average sun exposure - 40 times longer protection than you would normally have; i.e. if you normally burn after 5 minutes in the sun you have an extra 35 minutes before you have the same effect).

Keep stored away from direct sunlight. #sunblock #sunscreen